Posted on March 30, 2014 by cserena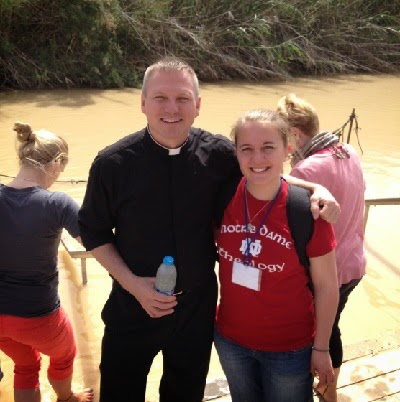 I was blessed to have the opportunity to go on a pilgrimage to the Holy Land with parishioners from St. John the Evangelist Catholic Church in Indianapolis last week, and so I would like to break from my Rome blog to share a bit about this wonderful pilgrimage.
After 30 minutes of being questioned by the Israeli security in Rome that involved checking my emails, asking questions about my host family, my past jobs, the writing in my bible, a full search and weigh of the items in my luggage, and a wipe down of my stuff as they looked for explosive residue, I finally got through…only to meet the Italian security…who did not even bother to open my passport. I sat on the plane next to two Jews whose parents were imprisoned during the Holocaust in Germany. They talked about it for awhile with me because it related to an article in the newspaper for that day. I was struck by the obvious pain that the horrendous acts of World War II still causes them and their family today. After a while the wife sighed and said, "I just don't understand how someone could hate us so much" and all I could say was, "Neither can I. It's terrible." Where can a conversation go from there?
I was picked up at the airport by an Armenian Christian named Jack. He was very friendly and helpful and had a license plate that said, "Jack is the man". He refused my tip and instead gave me bottled water and showed me around my hotel (which ironically was run by Italian Franciscans) and the Church of the Nativity.
I ended up spending the evening with a group of Anglicans from England. They invited me to eat dinner with them at our hotel and afterwards I went to their Night Prayer service, which was led by one of their bishops.