Marian Shrines Pilgrimage - July 24, 2022
France | Spain | Portugal

Activity Level 2 - Moderate
Journey through France, Spain, and Portugal as you take in the sites where the Blessed Mother has appeared to bring hope to the world. Your faith becomes more tangible as you reflect upon her words of guidance, peace, and encouragement in each of these holy sites.
Day 1 | July 24 | Depart USA
Our pilgrimage begins as we depart on our overnight flight to France. Meals and refreshments will be served aloft.
Day 2 | July 25 | Arrive Lisbon / Santarem / Fatima
Upon arrival in Lisbon, we will be met by our tour manager who will remain with us for the duration of our pilgrimage. Journey north to the Church of St. Stephen in Santarem to see one of the greatest Eucharistic Miracles, "The Bleeding Host." In the 13th century, a woman stole the host to take to a fortune-teller, but as she was taking it out of church the host began to bleed profusely. Afraid, she put it in a trunk at her home only to be awakened in the middle of the night to a bright light coming from the trunk. Taking the host back to the priest, he put it in a wax pyx. Another miracle happened the next morning when they found that the wax had turned into its own crystal pyx, where it can be venerated to this day. After time for prayer here, continue to Fatima, our home for the next two nights. (D)
Day 3 | July 26 | Fatima
A full day is ours in Fatima, where in 1917 three young shepherd children were graced with apparitions of the Virgin Mary. The message of Fatima has inspired generations of Catholics to pray the rosary daily for peace and reparation. Visit the Chapel of Apparitions before praying at the graves of Sts. Francisco and Jacinta, and Servant of God Lucia. Explore the tiny village where the three children lived and continue to Valinhos where Our Lady appeared to the children after they were unjustly imprisoned. It is here she encouraged them and told them they must still come every 13th of the month to see her. This evening, we participate in a beautiful Stations of the Cross along the Via Sacre or the candlelight rosary procession in the heart of the shrine. (B, D)
Day 4 | July 27 | Fatima / Coimbra / Santiago
Depart Fatima this morning and drive to the charming riverfront city of Coimbra where we stop at the Convent of Santa Clara La Nova where Sister Lucia lived until her death in 2005. We continue across the border and through the Spanish countryside to Santiago de Compostela. Tradition tells us that St. James the Apostle journeyed to Spain in 40 A.D. to spread the Gospel as far as possible. He died a martyr's death after returning to Jerusalem and his remains were eventually returned to Spain and buried in this city. Overnight in Santiago. (B, D)
Day 5 | July 28 | Santiago de Compostela
This morning we will enjoy a complete tour of Santiago de Compostela. Visit the impressive Cathedral which is considered to be one of the finest pieces of architecture in Europe. After Mass, climb up the stairs behind the altar to visit the crypt, where a silver urn contains the relics of St. James. See the Portico de la Gloria (Gateway to Heaven), an unparalleled masterpiece. Walk to the top of the Cathedral for a panoramic view of this glorious city. We will also visit the museum in the cloister adjoining the Cathedral. Enjoy another evening in this charming city. (B, D)
Day 6 | July 29 | Santiago / Salamanca
Depart this morning for Salamanca, home of some of Spain's most ornate architecture made of golden sandstone, and home to the third oldest university in Europe. Stroll through the bustling Plaza Mayor with its sweeping arches and enjoy a taste of Spanish culture before praying in the Cathedrals Vieja (Old) and Nueva (New). The cathedrals have numerous chapels inside, an elaborate high altar panel, and a mixture of architectural design unique to Spain. Overnight tonight in this majestic city. (B, D)
Day 7 | July 30 | Salamanca / Alba de Tormes / Avila
Today we learn about Spain's most famous woman saint, St. Teresa of Avila, a doctor of the Church, as we journey to Alba de Tormes to venerate her incorrupt arm and heart at the Carmelite Convent. Afterwards, proceed to Avila and visit the Convent of St. Teresa that was built over the house where she was born. Overnight in Avila. (B, D)
Day 8 | July 31 | Avila / Segovia
Begin this morning at the Monastery of the Incarnation where St. Teresa of Avila experienced some of her most mystical encounters with Christ. Afterwards, Segovia awaits to show us the life of another great Carmelite, St. John of the Cross, the spiritual director of St. Teresa of Avila. We have Mass at his tomb and explore the convent where he lived. Pray at the spectacular Segovia Cathedral with more than 20 chapels inside and at the Monastery of St. Joseph, St. Teresa's ninth foundation. Overnight in Segovia (B, D)
Day 9 | August 1 | Segovia / Zaragoza
Depart this morning for Zaragoza, where we celebrate Mass at the Basilica of Our Lady of the Pillar. It was here the Blessed Mother appeared to St. James the Greater in 40 A.D. This is the only known instance of the Virgin Mary appearing to someone while she was still alive—bilocating from Jerusalem—to encourage St. James in his preaching of the Gospel in Spain. Overnight in Zaragoza. (B, D)
Day 10 | August 2 | Zaragoza / Lourdes
We cross the border into France on our way to Lourdes, known for its healing waters after the Virgin Mary appeared to St. Bernadette in 1858. It is also where the Blessed Mother announced she was the Immaculate Conception. Join hundreds of other pilgrims in the Blessed Sacrament Procession and Candlelight Procession that has endured since 1863. Lourdes will be our home for the next two nights. (B, D) Lourdes
Day 11 | August 3 | Lourdes
Bask in the grace of Lourdes all day as we have Mass at the Grotto of Massabielle, where Our Lady first appeared to St. Bernadette and had her dig for the spring that is now known across the world for its many miracles of healing. We also visit the humble home where St. Bernadette lived during the apparitions. Tonight, we join the candlelight procession with thousands of other pilgrims in prayer and song. (B, D)
Day 12 | August 4 | Lourdes / USA
Today marks the end of a marvelous experience as we transfer to the airport for the return trip home, filled with memories and graces of this pilgrimage that will last a lifetime. (B)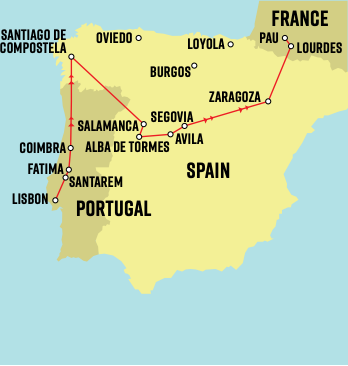 Daily Mass at holy sites
Roundtrip economy airfare from Omaha on Delta Airlines/Air France
10 nights' accommodation, including taxes and service charges
Porterage of one piece of luggage at airports and hotels
Knowledgeable, friendly, Catholic/Christian guides; whisper headsets; deluxe motor coach transportation to holy sites; all entrance fees listed on itinerary
Breakfast and dinner per itinerary (excluding drinks)