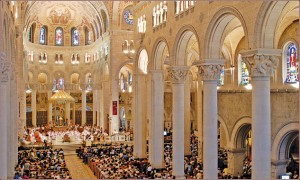 Just when I think I know it all, something happens that makes me realize that, in fact, I know very little.  
It happened to me last night.  Over a delicious rib-eye dinner with a priest-friend, he began to tell me about the Shrine of St. Anne de Beaupré.  The more he described its beauty and the peacefulness of the place, the more I realized, "Yeah, I've never even heard of that shrine."  
Interesting huh?  Especially since it happens to be one of the oldest pilgrimage sites of North America, going back to 1658.  Many miracles, officially recognized, have occurred there. Though not a big pilgrimage place to start, more than 1.5 million pilgrims make their way north of Quebec City to pray for themselves and their loved ones.  
Not only that, but from the pictures, the place is just downright beautiful.  Located on the historic St. Lawrence River, the Basilica is surrounded by some of the most beautiful country around.  The shrine can even be reached by boat from the river.  
The most popular pilgrimage season is during the summer around the feast day of St. Anne but from all the photos, I think I'd want to go in the Fall.  The many trees and rolling hills, the big skies and cliffs along the river make for something amazin' to see.  If going across the ocean isn't your thing this year, our new 7 day pilgrimage to the Catholic Shrines of Canada might be in the works for you.