"putting into effect with one accord the divine institution."
Peter asks Jesus a question in the Gospel. "Lord, is this parable meant for us or for everyone?" It is a very revealing question that was not unique to Peter. It is a question disciples of Jesus have asked through the millennia. The question reveals a level of confusion and ignorance. One cannot be held culpable for those realities. But it also reveals an attitude that is based upon comparison. In Peter's mind, there was a "they" and "us". This is where disciples of Christ, Jews, Muslims, even atheists get into trouble. They assume there is a "they" and "us". And when we assume there is a difference, there is soon to follow comparison. And with comparison, usually a "we are better" is born from faith and belief in the religion in which one is raised or converted. "They" compared to "us". "Lord, is this parable meant for us or for everyone?"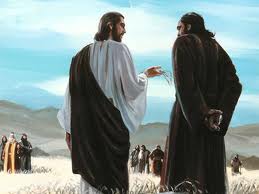 Jesus' response to Peter, interpreted by early Church in the Gospel, who basically a one word answer- everyone.
Yet we're so quick to compare our faith against the faith, or lack of faith, of others. Peter's questions seem to say, "Do we need to apply this principle, Lord, or have we checked that faith box already?" There is a poverty in his faith at this point. And there is certainly a famine of truth faith in our culture. Rather, it is a feast of fast-food faith focused on the externals.
But our second reading tells us "Faith is the realization of what is hoped for and evidence of things not seen." True faith isn't about externals and things and actions that can be seen. It's the exact opposite -"evidence of things not seen." Jesus makes that clear at the beginning of the Gospel when he says, "Sell your belongings and give alms. Provide money bags for yourselves that do not wear out, an inexhaustible treasure in heaven." You can't see the treasure in heaven but you can have hope in it. That is faith. It doesn't have anything to do with "they" or "us". It has to do with "me".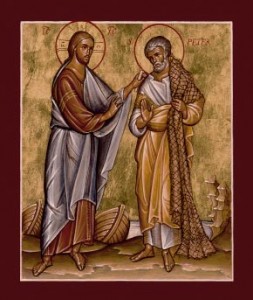 Today when I hear the Gospel, I hear what Jesus says to "me". "Do not be afraid any longer, little flock,
for your Father is pleased to give you the kingdom." Since he has given me the kingdom today, and today is all I have for sure, and my faith is in what is not seen, then as his child, how am "I" going to "be" in his kingdom today. Anything else I do with that is external. It is to be seen. And Jesus has stern words for the Pharisees, Sadducees and scribes who did things to be seen.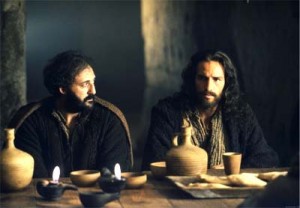 In "me" there is no need for "they" compared to "us". Though there is one Way to heaven through Jesus Christ, there are many roads that lead along that way. But don't worry about all those roads that other people are on. If you're going to worry, worry about yourself. Anyone who can read between the lines can see that that is exactly what Jesus was telling Peter in answer to his question. "Who, then, is the faithful and prudent steward whom the master will put in charge of his servants to distribute the food allowance at the proper time? Blessed is that servant whom his master on arrival finds doing so. Truly, I say to you, the master will put the servant in charge of all his property."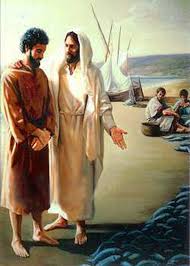 As he says more expressly after the Resurrection, "If it is my will that he remain until I come, what is that to you? [You] Follow me!" so he says now to Peter and to each of us. We are not to worry about "they" or "us". If we are to live life as God designed, "putting into effect with one accord the divine institution" as our first reading said, and "all who believed were of one accord and had all things in common; and they sold their possessions and goods and distributed them to all, as any had need," as the Acts of the Apostles says, then we are to be one in faith, hope and love with everyone.
If each of us worries about himself, and we all do so in one accord, just imagine how easy it would be to live in the kingdom that the Father has already given us.