An Immersion in Prayer and Faith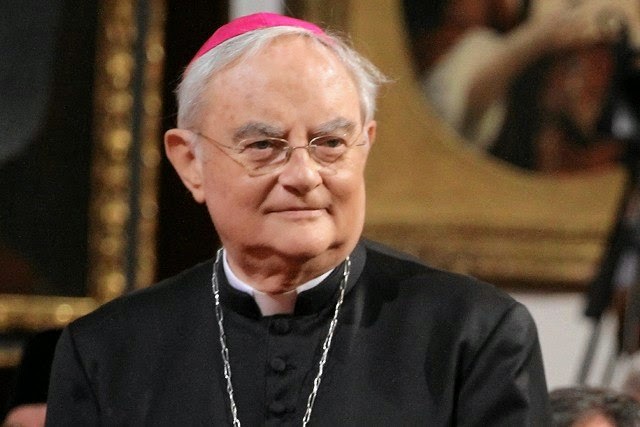 "Today dioceses and other institutions can organize official pilgrimages to Medjugorje"
-Archbishop Hoser Papal Envoy to Medjugorje
---
In 1981, six children in the small town of Medjugorje in Bosnia-Herzegovina reported seeing apparitions of Our Lady. During the visions, the Blessed Mother called the visionaries to prayer, fasting, and penance.
While some of the visionaries have ceased to receive visions, others still report daily, monthly or annual visits from the Blessed Mother. 
The Ruini Commission, appointed by Pope Francis to make a recommendation regarding the authenticity of the apparitions, recommended that the first 7 visions should be approved. Read More About the Vatican Response
---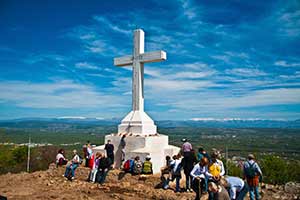 "…this movement will not stop and should not be stopped, because of the good fruit that grows out of it…"
-Archbishop Hoser Papal Envoy to Medjugorje
---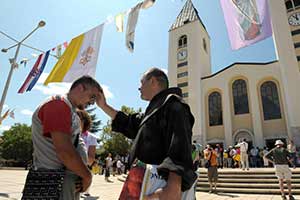 A Time of Intense Prayer and Renewal
---
Pilgrims enjoy a flexible schedule that provides time to reflect, explore, climb Apparition Hill, partake of Reconciliation, and attend evening Mass, adoration, and Rosary prayer.
Medjugorje pilgrims overwhelmingly report that the journey was life-changing. They return home to partake of daily Mass, frequent confession, and fasting.
Retreat with Fr. Zlatko Sudac
& Pilgrimage to Medjugorje
Tekton also offers Medjugorje pilgrimages that include a three-day retreat with priest, mystic, and stigmatist Fr. Zlatko Sudac.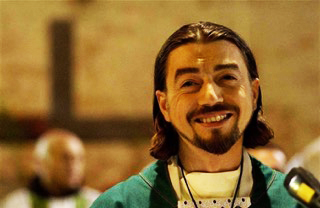 Fr. Zlatko Sudac: Retreat Leader
Fr. Zlatko Sudac is a Roman Catholic Priest from the Diocese of Krk, Croatia and the retreat leader at the Bethany Retreat House on the Island of Lošinj. He is a mystic who bears the stigmata on his wrists, feet, and side, as well as a bleeding cross on his forehead, all of which have been verified by Vatican doctors as not being of human origin.
Having grown up in the Croatian town of Vrbnik as an average youth, Fr. Sudac (pronounced Soo-dahts) heard the call to the priesthood in his early 20s when he attended a seminar by Fr. Emile Tardiff. Fr. Sudac was ordained on June 29th, 1998 and was assigned to a parish on the island of Pag. Immersed in the parish life, he found himself very active and busy, but eleven months after his ordination something very unusual happened.
On the 7th of May, 1999, Fr. Sudac received the first mark of the stigmata, in the form of a cross "imprinted" on his forehead. Fr. Sudac's Bishop sent him to the Gemelli Clinic in Rome, the hospital that treats the Holy Father, where he remained for about 40 days. He was subjected to intense investigation by a team of experts from a variety of medical disciplines and underwent numerous tests and procedures.
The final report from the Gemelli Clinic concluded that Fr. Sudac was of sound mind and that, while the team could not confirm that the cross on Fr. Sudac's forehead was of Divine origin, it could state that there was no known medical explanation for the formation of that cross.
Almost a year and a half after Fr. Sudac received the cross on his forehead, on October 4th, 2000, Fr. Sudac received the wounds of Christ on his wrists, feet and side. Interestingly, October 4th is the feast day of St. Francis of Assisi, the first known stigmatist.
Today, Fr. Sudac is the retreat leader at Bethany Retreat House on the island of Lošinj. In addition, he has a natural gift for art and creates prints that adorn churches, chapels and private homes. Still a young man, Fr. Sudac places the future of his ministry in the hands of God. He is a priest in good standing with the Church, and he humbly submits to the authority of the Church in all matters related to his gifts and ministry.
Ann Vucic: Pilgrimage Leader
Born in a village 2 miles from Medjugorje, Ann's family emigrated to the United States when she was 2 years old. They returned to their homeland during the summer of 1981 to visit relatives. Shortly after their arrival, a whispered conversation in a coffee shop led them to hurry to Medjugorje, where six children said they had seen the Blessed Mother. Sixteen-year–old Ann was profoundly changed when she witnessed the children during the second apparition.
Ann returned again and again to the town, often alone, to be present during the apparitions. She knew that God had placed her in that particular place, at that particular time, for a reason and she longed to understand what He was calling her to do.
In 1999, Ann recognized that call, and began to lead pilgrimages to Medjugorje and other Catholic sites. She interpreted for the Medjugorje visionaries and priests, and worked extensively with Fr. Zlatko Sudac, Croatian priest and stigmatist, developing a close working relationship with him over the years. She remains dedicated to sharing her faith and testimony through leading pilgrimages and retreats.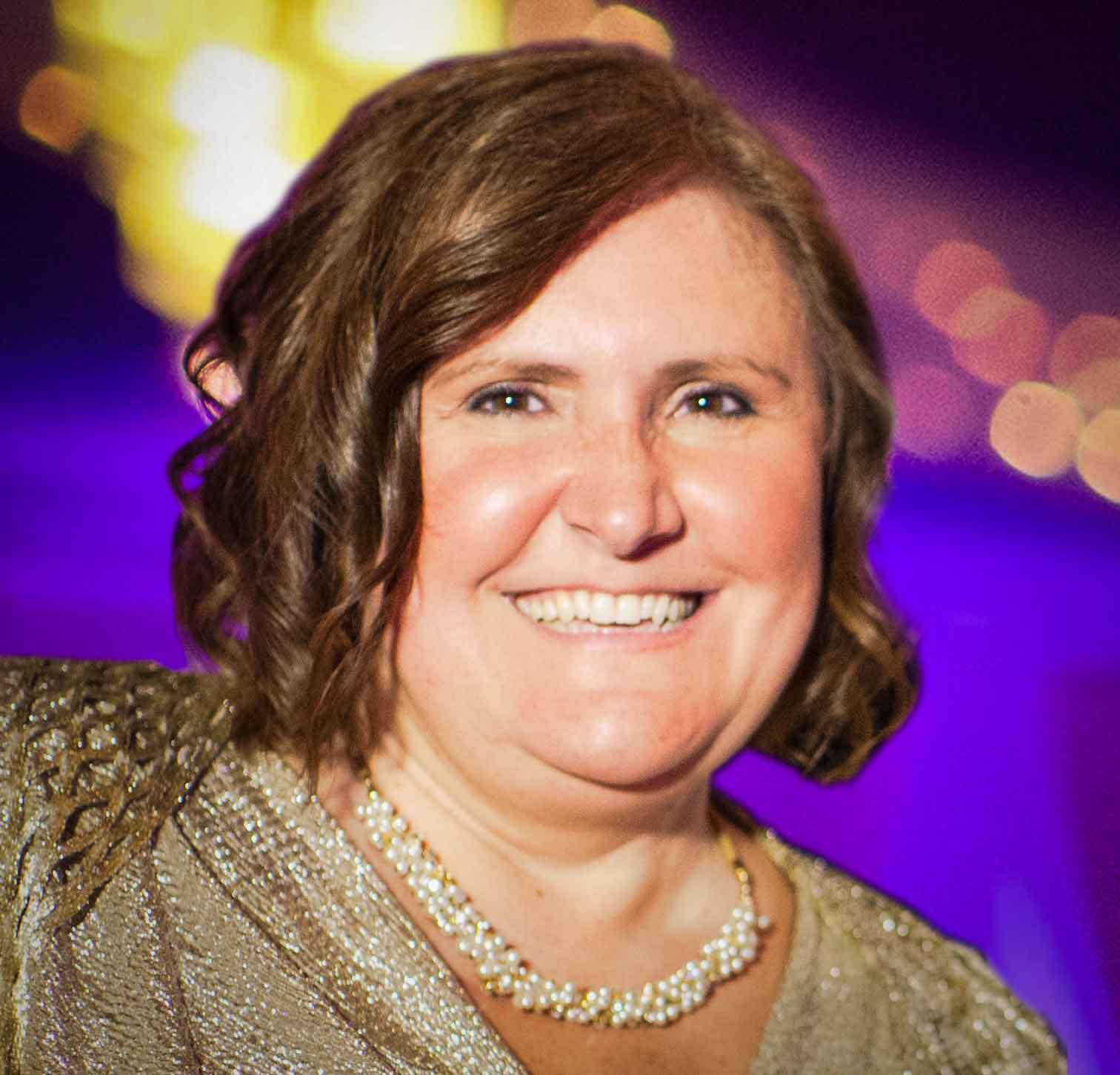 ---
2017 Radio Interview - Sacred Treasures
Upcoming Medjugorje and Fr. Sudac Pilgrimages/Retreats
Pilgrimage Location:
Departure Date:
Return Date:
Price:
Departure City*
Register Now
Download Brochure
Italy


(Postponed to October 20th, 2020)

June 15, 2020
June 25, 2020
$3,970
Cincinnati
Register Now
Download Brochure
2
Holy Land


(Postponed to November 2nd, 2020)

June 29, 2020
July 9, 2020
$3,250
Chicago
Register Now
Download Brochure
3
Oberammergau

(Postponed)

July 7, 2020
July 17, 2020
$4,335
Philadelphia
Register Now
Download Brochure
4
Oberammergau

(Postponed)

September 1, 2020
September 11, 2020
$4,310
Dallas
Register Now
Download Brochure
5
Oberammergau

(Postponed)

September 12, 2020
September 22, 2020
$4,270
Indianapolis
Register Now
Download Brochure
31
Oberammergau (Private Group)


(Postponed)

September 28, 2020
October 9, 2020
$4,560
Indianapolis
Register Now
Download Brochure
7
Holy Land
For Holy Family/New Albany Deanery Participants
October 5, 2020
October 15, 2020
$4,225
Cincinnati
Register Now
Download Brochure
8
Italy
October 8, 2020
October 16, 2020
$2,785
Indianapolis
Register Now
Download Brochure
9
Medjugorje
October 13, 2020
October 22, 2020
$2,595
Minneapolis
Register Now
Download Brochure
10
Italy
October 19, 2020
October 29, 2020
$3,990
Cincinnati
Register Now

Coming Soon!

11
Italy
October 20, 2020
October 31, 2020
$3,950
Memphis
Register Now
Download Brochure
12
Holy Land (Croatian Franciscans)
October 26, 2020
November 5, 2020
$3,135
Chicago
Register Now
Download Brochure
13
Holy Land
For Blessed Sacrament Parishioners
October 30, 2020
November 10, 2020
$3,995
Wichita
Register Now
Download Brochure
14
Holy Land / Jordan
November 1, 2020
November 12, 2020
$4,095
Omaha
Register Now
Download Brochure
15
Holy Land
November 2, 2020
November 12, 2020
$2,895
Chicago
Register Now
Download Brochure
16
Holy Land / Jordan
Private Group


Sold Out

November 8, 2020
November 19, 2020
$3,995
Kansas City
Register Now
Download Brochure
17
Holy Land
November 30, 2020
December 11, 2020
$3,185
Chicago
Register Now
Download Brochure
18
Holy Land (Private Group)
December 1, 2020
December 12, 2020
$2,775
Denver
Register Now
Download Brochure
19
Holy Land
December 9, 2020
December 19, 2020
$3,495
Omaha
Register Now
Download Brochure
20
Holy Land
(Private Group - Land Only)
January 8, 2021
January 17, 2021
$3,455
NA
Register Now
21
Holy Land (Pricing Estimated)


Waiting List Only

February 1, 2021
February 11, 2021
$2,970
Chicago
Register Now
Download Flyer (Brochure Coming Soon)
22
Holy Land (Pricing Estimated)
February 1, 2021
February 11, 2021
$4,500
Indianapolis
Register Now
Download Flyer (Brochure Coming Soon)
23
Holy Land
March 7, 2021
March 17, 2021
$3,690
Memphis
Register Now
Download Flyer (Brochure Coming Soon)
24
Italy (Pricing Estimated)
March 12, 2021
March 20, 2021
$2,700
Denver
Register Now

Coming Soon!

25
Holy Land (Pricing Estimated)
April 12, 2021
April 23, 2021
$3,800
Seattle
Register Now
Download Flyer (Brochure Coming Soon)
26
Poland & Prague (Pricing Estimated)
April 19, 2021
April 29, 2021
$3,245
Orlando
Register Now
Download Brochure
27
Ireland (Pricing Estimated)
May 10, 2021
May 21, 2021
$3,500
Omaha
Register Now
Download Flyer (Brochure Coming Soon)
28
Greece & Turkey
May 10, 2021
May 21, 2021
$3,800
Denver
Register Now
Download Flyer (Brochure Coming Soon)
29
Italy (Private Group)
June 1, 2021
June 11, 2021
$4,355
Charlotte
Register Now

Coming Soon!

30
Holy Land (Pricing Estimated)
June 7, 2021
June 17, 2021
$4,500
Cincinnati
Register Now
Download Flyer (Brochure Coming Soon)
31
Poland and Lithuania – in honor of Divine Mercy (Pricing Estimated)
June 14, 2021
June 25, 2021
$3,195
Chicago
Register Now

Coming Soon!

32
Shrines & Steins
Germany/Belgium
(Pricing Estimated)
June 21, 2021
July 1, 2021
$3,800
Chicago
Register Now
Download Flyer (Brochure Coming Soon)
33
Ireland (Pricing Estimated)
June 30, 2021
July 11, 2021
$3,500
Omaha
Register Now
Download Flyer (Brochure Coming Soon)
34
Poland (Pricing Estimated)
August 2, 2021
August 12, 2021
$3,500
Chicago
Register Now
Download Brochure
35
Holy Land
August 16, 2021
August 26, 2021
$3,105
Chicago
Register Now

Coming Soon!

36
Ireland (Pricing Estimated)
August 25, 2021
September 4, 2021
$4,500
Omaha/Lincoln
Register Now
Download Flyer (Brochure Coming Soon)
37
Holy Land (Pricing Estimated)
September 7, 2021
September 17, 2021
$3,395
Dallas
Register Now

Coming Soon!

38
Italy (Private Group)
September 17, 2021
September 28, 2021
$4,295
Chicago
Register Now

Coming Soon!

39
Camino de Santiago
October 1, 2021
October 12, 2021
$3,790
Chicago
Register Now

Coming Soon!

40
Marian Shrines
(Pricing Estimated)
October 4, 2021
October 15, 2021
$3,500
Seattle
Register Now
Download Flyer (Brochure Coming Soon)
41
Italy (Pricing Estimated)
October 18, 2021
October 29, 2021
$3,595
Chicago
Register Now

Coming Soon!

42
Holy Land
Private Group
(Pricing Estimated)
October 25, 2021
November 4, 2021
$4,500
Kansas City
Register Now

Coming Soon!

43