Writing for CNA, Estefania Aguirre reports that Pentecost at the Vatican is going to be packed. According to CNA, over 50k people will be in attendance, in addition to the 70k that was already planned for. Outlining the events for the weekend when Church movements will be represented by the faithful from "150 different ecclesial realities", Aguirre notes that the whole shebang will start Saturday with a pilgrimage to St. Peter's tomb.
"Aha!" I thought. "Begin a weekend of evangelization, worship and communion with a
pilgrimage
; of course!" And so 50 – by – 50 the groups will embark upon their short but profound pilgrimage.
Something tells me, however, that in groups of 50, not all 120k pilgrims to Rome are going to make it. That would be 2,400 groups at 15-30 minutes each. Not gonna happen because that doesn't even figure in the typical Italian reposo (siesta). But who knows, maybe this particular Pentecost the Holy Spirit will give the Scavi guides the energy they need to make it through without a reposo. Alla como viene, viene.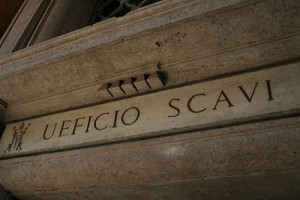 Now, whether the pilgrims will simply be viewing the tomb from the traditional place or air-locking it through the Scavi is not clear. My guess is that the fastidious, very fastidious, custodians of the Scavi Tour would have nervous breakdowns of apocolyptic proportions if the former held true. No, seriously.
…they will stand far off, in fear of her torment, and say, "Alas! alas! thou great city, thou mighty city, Babylon! In one hour has thy judgment come." (Revelation 18:10)

Our good Italian friends at times have a flare for the dramatic.
Little story about the Scavi: My second pilgrimage to Rome saw the opening of the "new room" of the Scavi Tour. The new room allowed pilgrims to see the bonafide bones of St. Peter from a closer locale. It was quite moving actually.
For those who have not been on the Scavi Tour, "it's a trip!" You move from one air-locked chamber to the next, passing through laser sensors that prevent the thick, clear, sliding doors from closing unless everyone has exited the chamber. You feel like you're in a spaceship.
I was a little skeptical, being a realist, that the experience was going to be worth the intimidation and scowls of the Scavi officials throughout the tour. But one look at St. Peter's bones, protected in the NASA-constructed plexiglass box was enough to bring me to my knees. Literally. I found my soul saying within me, "Peter. Peter. Peter." And I heard my soul hearing from without, "Jesus. Jesus. Jesus." St. Peter re-focusing my attention on who was most important- I'd chalk that one up to a legitimate spiritual experience of authentic and orthdox faith. But, hey, you don't have to. No one needs to believe in private revelations of/to the saints, right? And I'm no saint.
The long and short of it is… when you take a pilgrimage to Rome (hopefully with Tekton), make sure you get in on the Scavi Tour. It's worth every "Silenzio!" that's screamed in full falsetto from our nervous custodian friends in the "excavations".
Best wishes and safe travels to our Pentocost pilgrims in Rome! Ora pro nobis peccatoribus.